Page
To get started ICU Moodle はじめてMoodleをご利用の学生へ
1. Log in to ICU Moodle / ICU Moodleログイン方法
Click the round mark on the upper right to select Japanese or English.
You will need your ICU Net ID to log in to Moodle. (You do not need to enter "@icu.ac.jp" for your ID. The password is the same as your ICU Net ID. )
※ If you forgot your ID or password, please contact the
helpdesk
.
右上の丸いマークをクリックすると日本語と英語の選択ができます。
Moodle ログインには、ICU Net IDが必要です。(入力する際、IDは"@icu.ac.jp"は不要です。パスワードはICU Net ID と同じものです。)
※ ICU Net IDやパスワードを忘れた場合は
helpdesk
にお問い合わせください。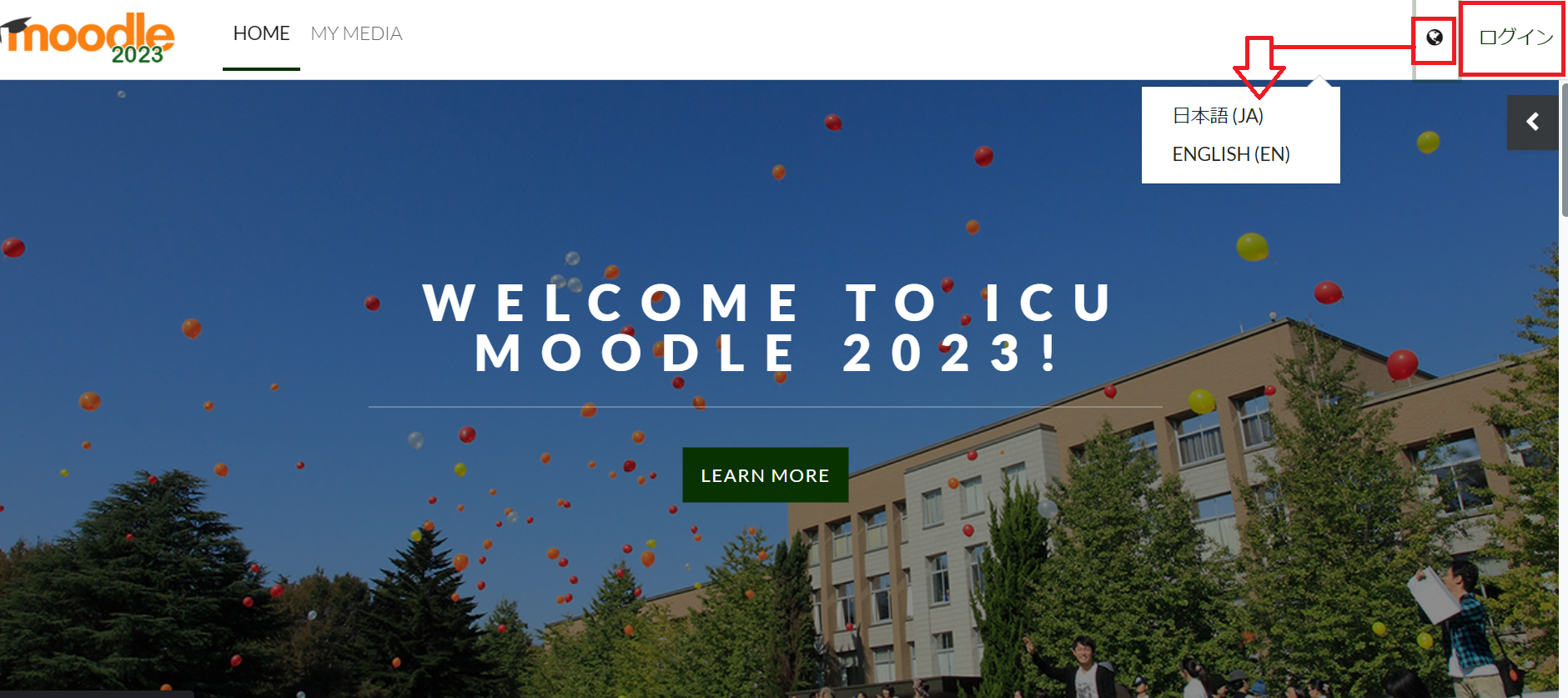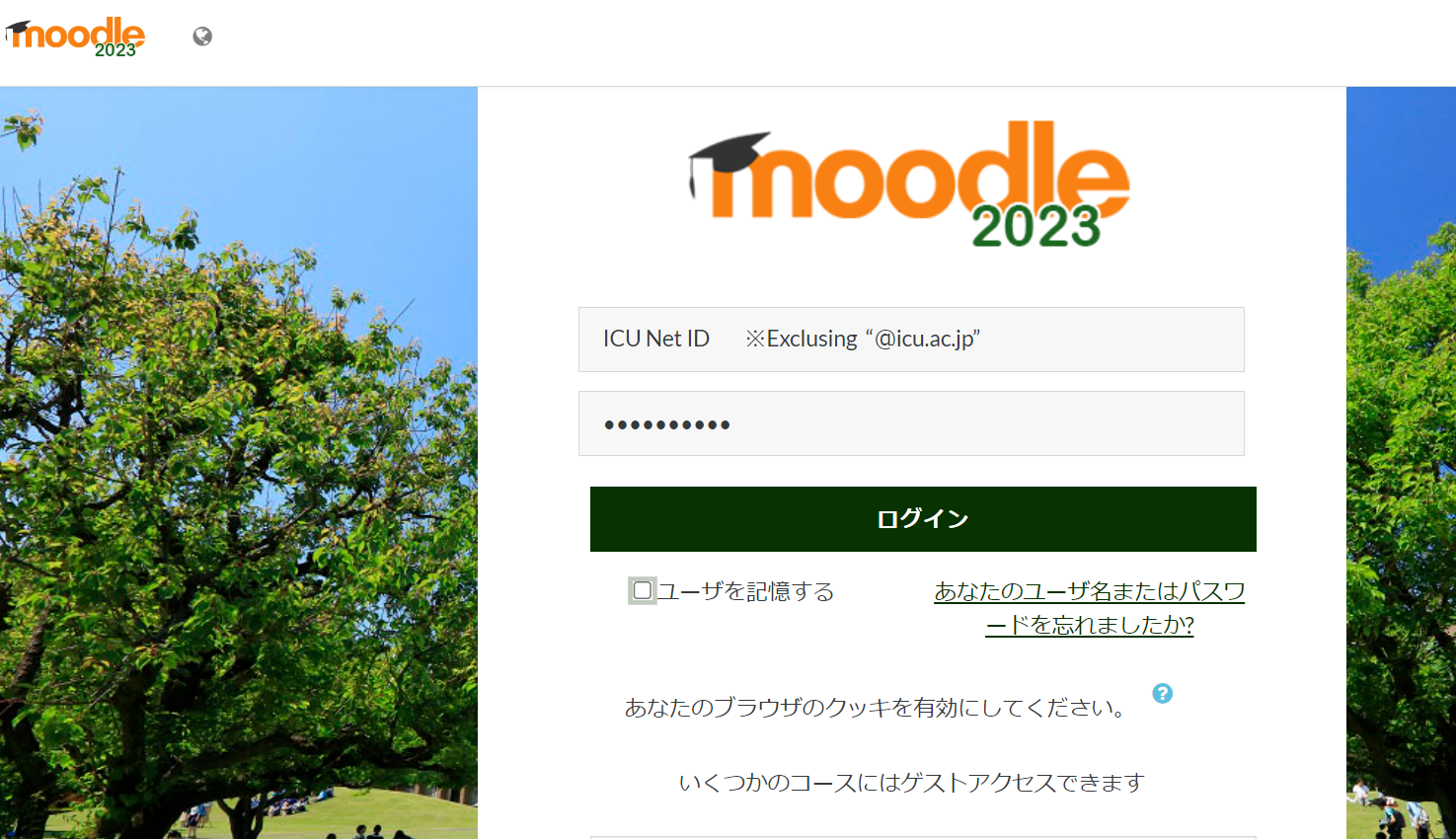 2. Menu display, language setting, etc. / メニューの表示、言語設定など
After logging in, you will see your dashboard. The menu bar is located at the top of the screen.
You can change the language (etc..) by clicking the user name on the upper right of the screen.
ログインするとダッシュボードが表示されます。メニューバーは画面上部にあります。
画面右上のユーザー名をクリックすると、言語の変更などが出来ます。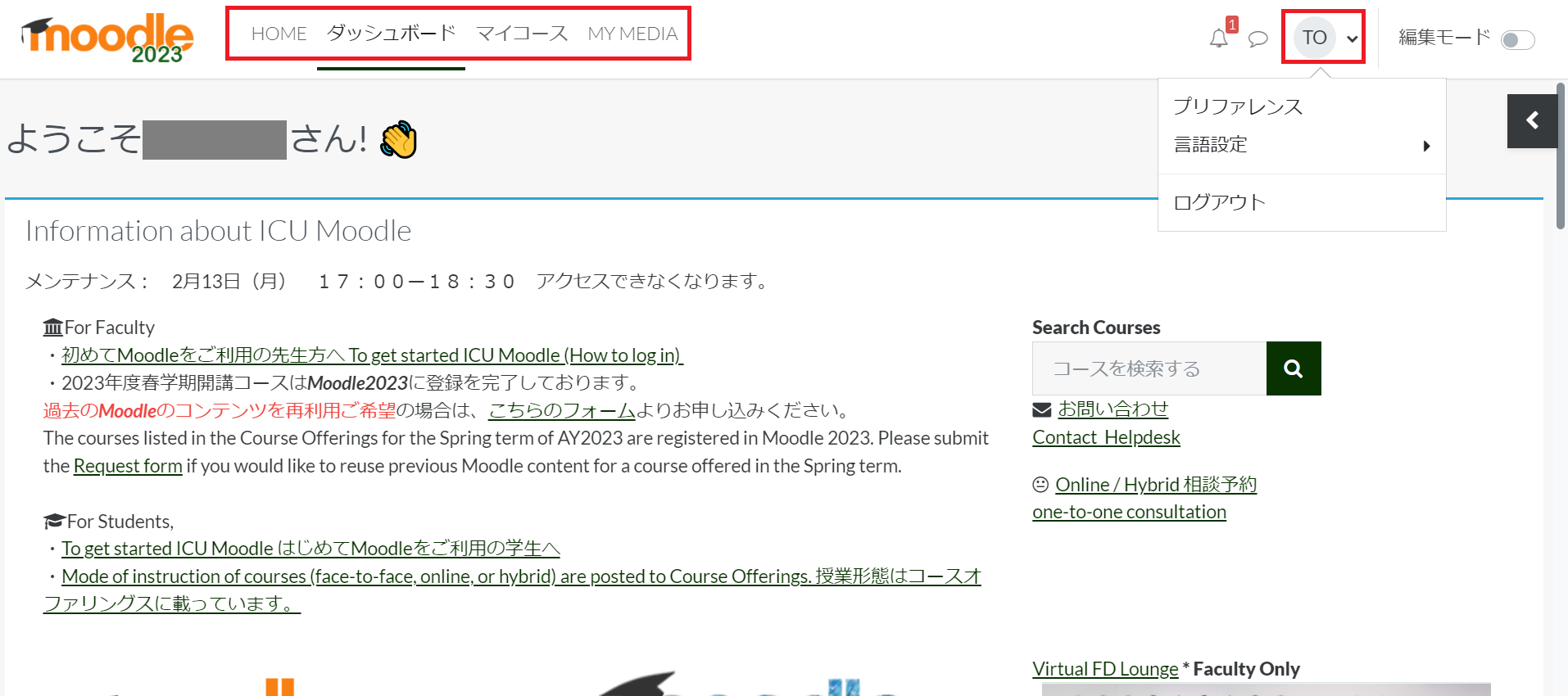 3. What to do at the beginning of the Term /
学期のはじめに行うこと
How to
find the courses
you want to take in.
受講したいコースを探す方法


Step 1)
Confirm Syllabus / シラバスを確認する
There would be some teachers who don't use Moodle. Read the syllabus carefully first. If you are still unsure, please contact your instructor directly by email.
Moodleを使わない先生もいらっしゃいます。まずはシラバスをよく読んでください。
それでもわからない場合は直接担当教員にメールで連絡してください。
Step 2)
Find Moodle courses. / Moodleコースを探す
Enter a course ID, such as ANT101, or the title of the lecture (in English) to search.
When the course is displayed, click on "Enrol Me!" to register.
※In the dashboard, you can access the courses you have registered once, check the activities, and organize the courses.  About Dashboard
ANT101のようなコースID、または講義のタイトル(英語)を入力して検索します 。
コースが表示されたら、「Enrol Me!」をクリックして登録します。
※ダッシュボード内では、 一度登録したコースへのアクセスや活動の確認の他、コースの整理を行っていただくことでご自身で使いやすいように編集することが出来ます。  ダッシュボードについて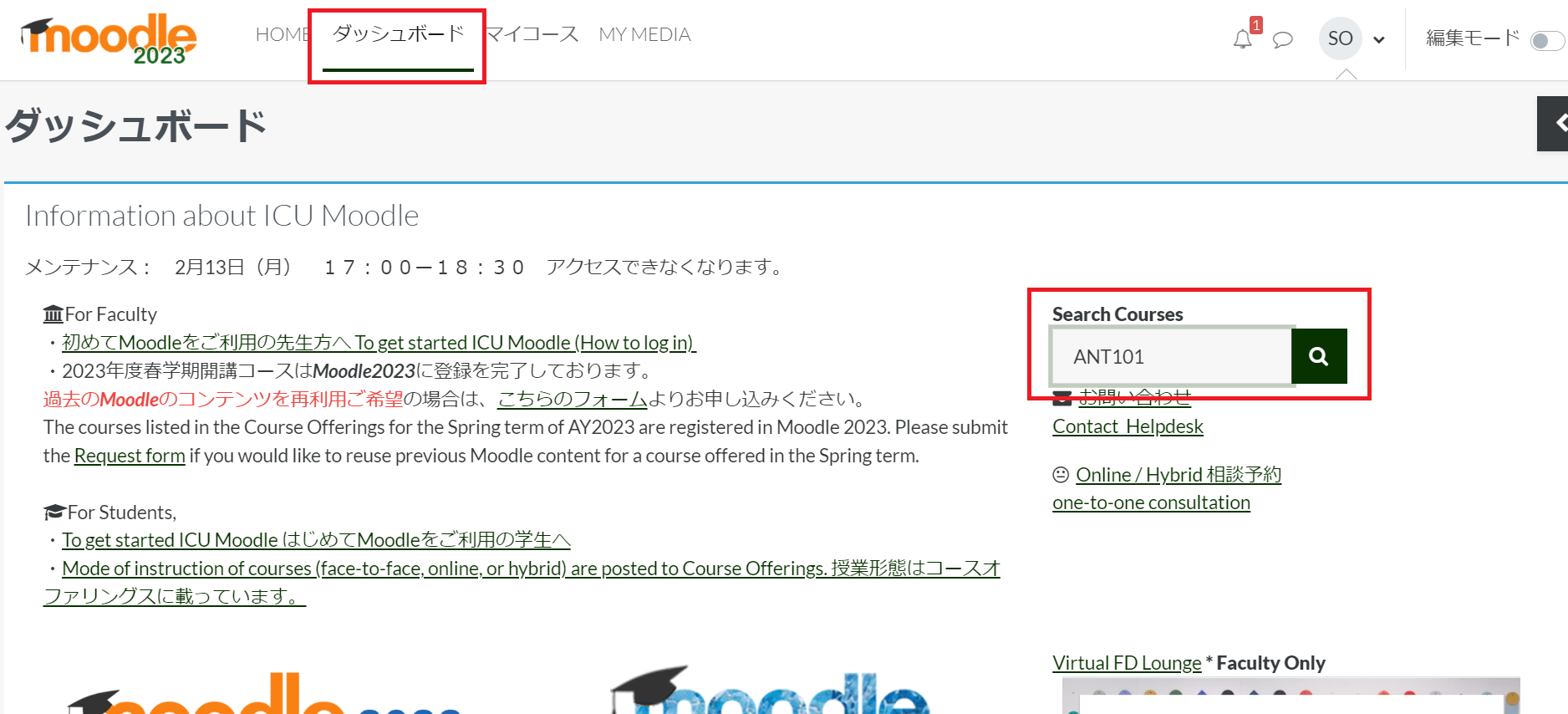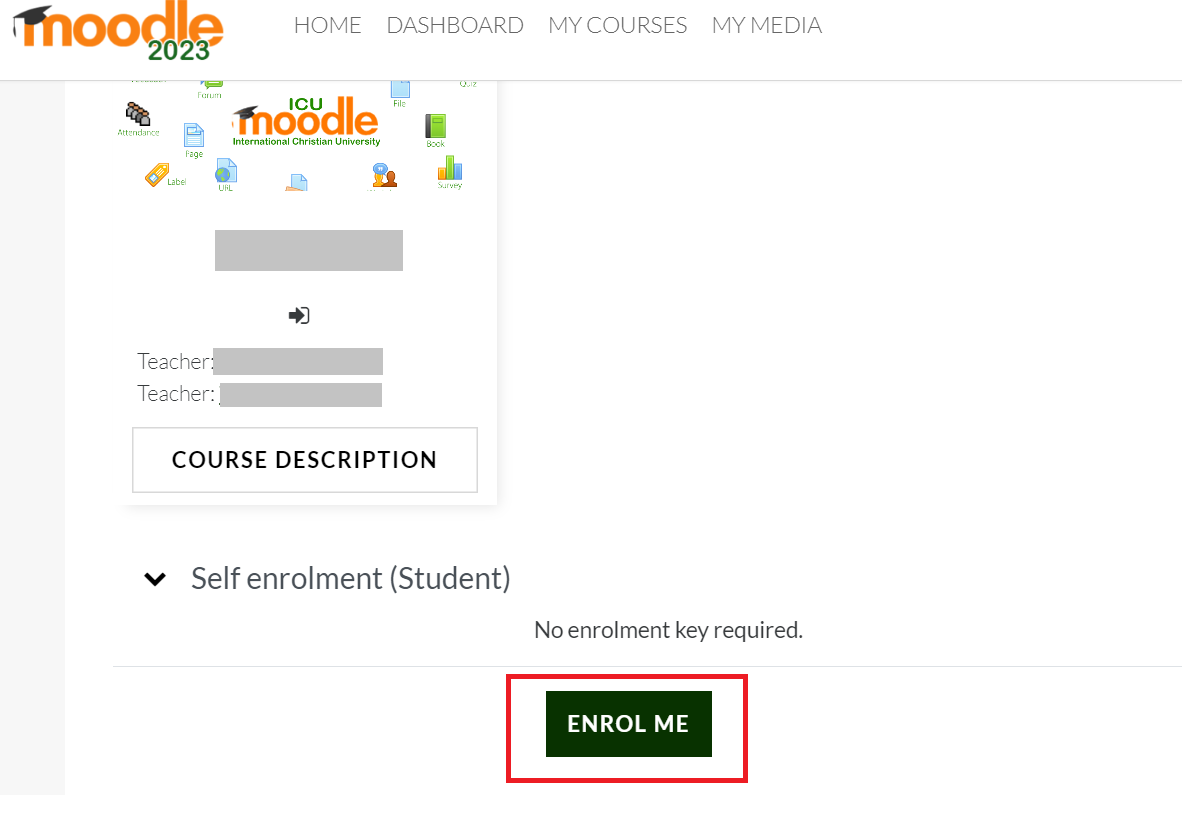 [Information for Students]
ー
オンライン授業の前に / Before Online Classes

ー Moodle FAQ for Students
When the Gmail login screen appears, please log in with your ICU email address and password.
>
About G Suite access (Click here for FAQ)
Gmailのログイン画面が表示されたら、ICUのEmailアドレスとパスワードでログインしてください。
>
G Suiteのアクセスについて
(よくある質問はこちらから)
Last modified: Tuesday, 28 February 2023, 9:57 AM